On the Backroads: A Crystal Cave Adventure
At Crystal Cave Adventure Park in Spring Valley, Wisconsin, you'll discover wonders above and below. Descend more than 7 stories to explore Wisconsin's longest cave, pan for gems at Prospector's Creek, learn about dinosaurs over a round of Tee-Rex mini-golf, and more!
Crystal Cave in Spring Valley has been capturing the imaginations of visitors since 1941 and the story of its discovery adds to the excitement. The cave was first discovered by two brothers in 1881. They were chasing a woodchuck through a field when it disappeared underground. Being adventurous boys, they investigated further, and the next day descended into a clay and debris filled dome. Today's visitors can stand in this very spot when they enter the main room of the second level of the cave.
Amateur geologist Henry A. Friede purchased the property in 1941 and in November of that year work began to remove the glacial silt and debris from the cave. The cave opened for tours on June 7, 1942. 20,000 guests toured Crystal Cave during its inaugural season.
Adventures Below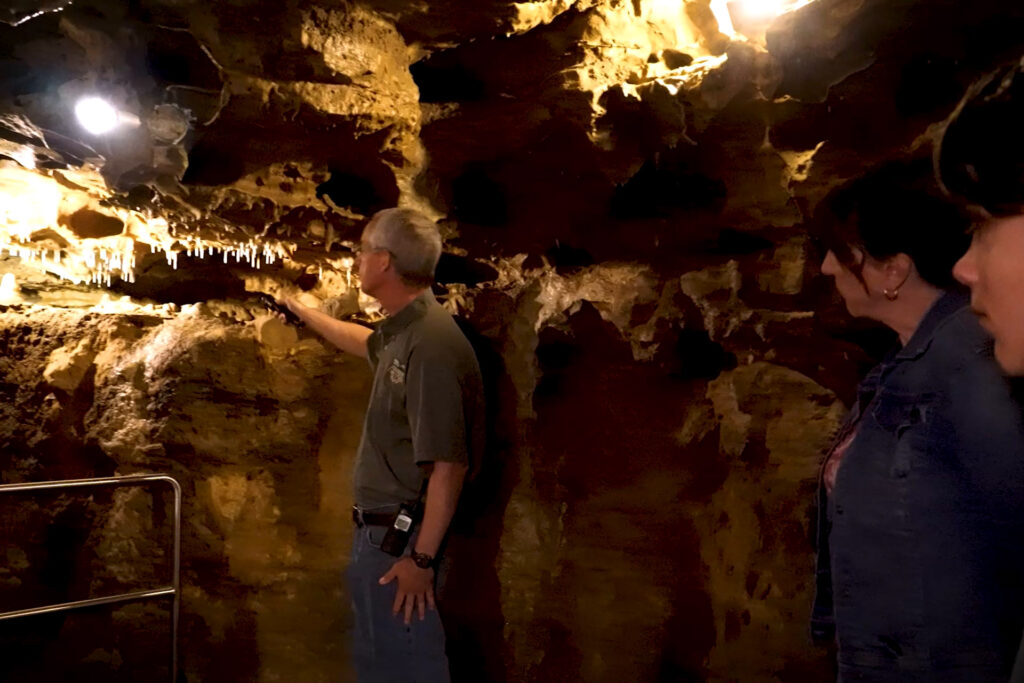 The cave remains the highlight of Crystal Cave Adventure Park, satisfying the adventure cravings of50,000 guests each year. Informative one-hour guided tours reveal the wonders of Wisconsin's longest cave, including rock formations that are thousands of years old. A thrill for young and old alike, you will see stalactites, stalagmites, and learn about the unique small druzy crystals in the cave walls that give the cave its name. Bring a jacket; the interior of Crystal Cave is the exact average yearly temperature of western Wisconsin, which happens to be 50 degrees Fahrenheit (10 C). Sensible shoes are also a must as you'll be walking and standing for an hour on some unlevel surfaces and walking down (and back up) 7 stories of stairs and ramps to enter and exit the cave.
Adventures Above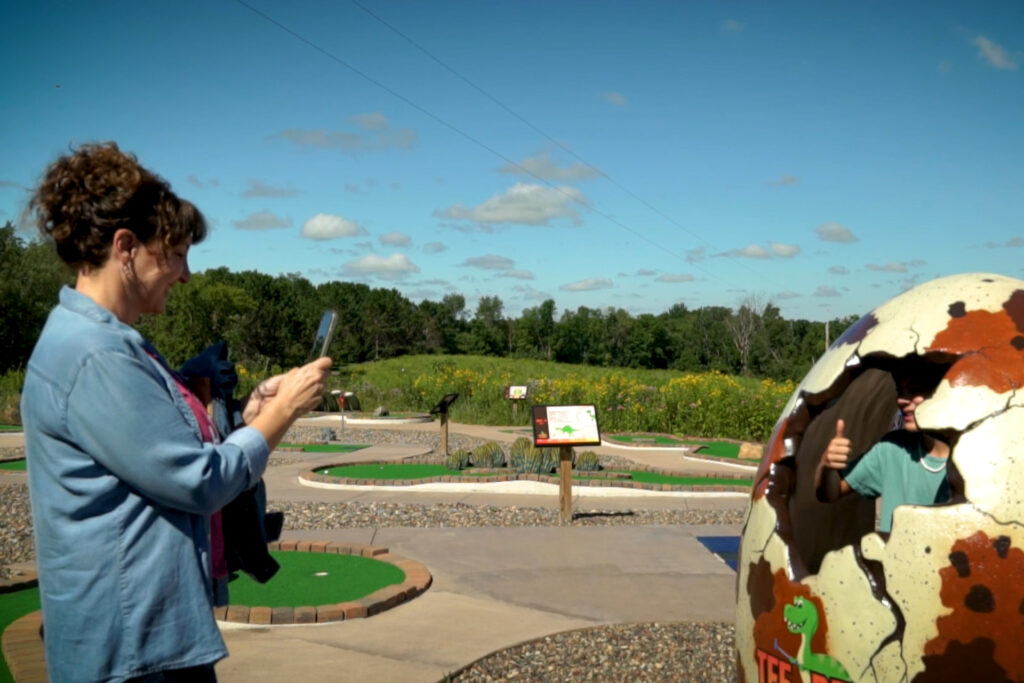 The adventure–and learning–doesn't stop there! The Crystal Cave gift shop is one of the largest mineral and fossil stores in the Midwest! Rock enthusiasts will want to take some time to browse, and perhaps find something to add to their own collection. Take a moment to scan your surroundings. This beautiful building which serves as the welcome center and entrance to the cave is original to the grounds. It was built in 1942 from loose fragments of dolomite from the cave. You'll marvel at the workmanship. At Prospector's Creek, gem panning offers more family fun! Purchase a bag or bucket of gem panning ore and uncover real gems, crystals, minerals, and fossils from all around the world. With the help of staff and an identification card, you'll be able to identify the treasures you find. You're guaranteed to find a wide variety, which makes this a fun, rewarding, and educational activity the kids will love. The fun and learning continue at the dino-themed 18-hole Tee-Rex mini golf course. Putt through fossils, dino eggs, and more, and learn about dinosaurs as you play. There are plenty of photo ops here, and lots of fun for the entire family! With so much to see and do, you're going to want to make a day of your visit to Crystal Cave Adventure Park. Beautiful, spacious picnic areas in a park-like setting are the perfect place to enjoy a picnic lunch. Close by you'll find an interpretive nature trail through 7 acres of restored prairie. Interpretative signs along the trail share about the restoration and native plant species found there.
For Your Visit
Crystal Cave Adventure Park is open April through October. Planning your visit and booking your cave tour starts with a visit to the Crystal Cave website to purchase tour tickets. The website shows cave tour times and real-time ticket availability. Their FAQ section offers some great tips and advice as you plan for your visit. For gem panning and mini golf, check out the Adventures Above Package.
Website: acoolcave.org